Psalms 30:5

"For his anger endureth but a moment; in his favour is life: weeping may endure for a night, but joy cometh in the morning."

Hardened in heart anew,
But glad to have sat under
Thunder and rain with you,
And grateful too
For sunlight on the garden.

Max is Back with a discussion of current NON-events -

Scheduled Terrorism

maxinespeaker@gmail.com

inthevalle.blogspot.com/maxsthread.freeforums.net/
The news feed is almost non-existent tonight. Perhaps our tipsters were all trapped in Incirlik Air Base when the Turkish government cut the power.
The big stories of the day concern the aftershocks from the attempted military coup in Turkey. Thousands of soldiers and judges have been rounded up and arrested. At least one soldier was allegedly beheaded by a pro-Erdogan mob on the Bosphorus Bridge in Istanbul. Turkish authorities cut power to the Incirlik Air Base used by NATO forces and refused to allow any flights in or out. The German defense minister was reportedly denied entry to the base.
In other news, French Interior Minister Bernard Cazeneuve said that Mohamed Salmene Lahouaiej Bouhlel, the perpetrator of Thursday's truck-jihad massacre in Nice, appears to have been radicalized rapidly, thereby escaping the notice of the security services.
To see the headlines and the articles, click "Continue reading" below.
Fourth in an occasional series on the poetry of Louis MacNeice
Many writers have observed the similarity between our time and the waning days of the 1930s.
Wretchard
even finds an analogue with the "Phony War", the period between Hitler's invasion of Poland and the fall of France in 1940.
So we await our equivalent of the
blitzkrieg
and the end run around the Maginot Line, and then the real war can begin. In the meantime we can look back on the 1930s and find a commonality of experience.
The period leading up to the Second World War was a study in contrasts, a time of raucous celebration combined with a grim foreboding. As
Al Stewart
says, we were "laughing into 1939."
It is this sense of impending doom, of the imminent end of all good things, which appears most strongly in the poetry of Louis MacNeice during that period. For example:
The Sunlight on the Garden
By Louis MacNeice
The sunlight on the garden
Hardens and grows cold,
We cannot cage the minute
Within its nets of gold;
When all is told
We cannot beg for pardon.
Our freedom as free lances
Advances towards its end;
The earth compels, upon it
Sonnets and birds descend;
And soon, my friend,
We shall have no time for dances.
The sky was good for flying
Defying the church bells
And every evil iron
Siren and what it tells:
The earth compels,
We are dying, Egypt, dying
And not expecting pardon,
Hardened in heart anew,
But glad to have sat under
Thunder and rain with you,
And grateful too
For sunlight on the garden.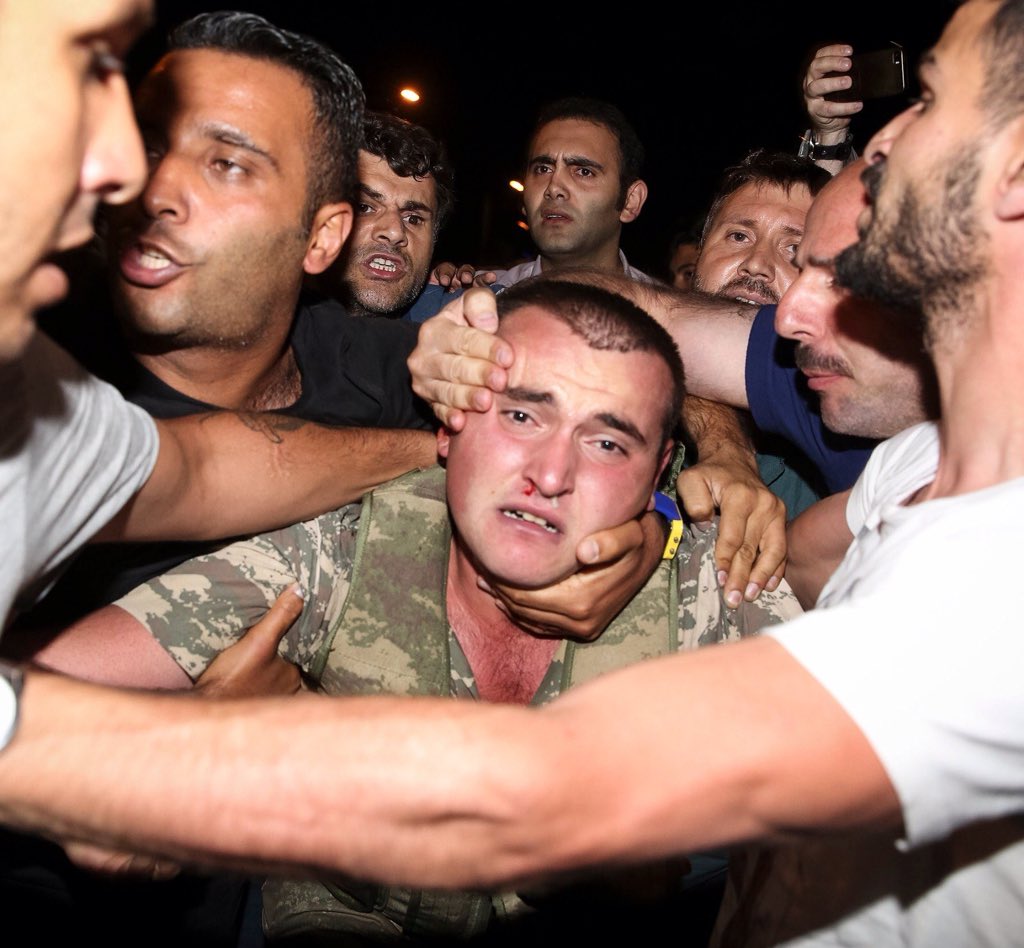 Erdogan Accused of Possibly Staging His Own Coup Attempt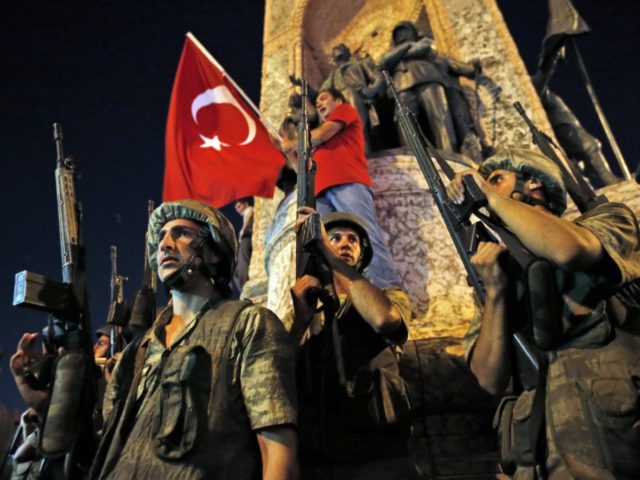 Did Erdogan STAGE the coup? US-based Turkish cleric facing extradition over botched rebellion claims president orchestrated plot to justify a clampdown on civil rights
Daily Mail
A US-based
Turkish
cleric accused of plotting a coup to overthrow the Ankara government has claimed President Recep Erdogan staged the rebellion himself to justify a major clampdown on opposition forces.
Fethullah Gulen, who was a former key ally of Erdogan has been blamed by the politician of using his contacts to develop a 'parallel structure' to overthrow the state.
Erdogan has called on US President
Barack Obama
to extradite Gulen, who is based in Pennsylvania.
In response to the attempted rebellion, Turkish authorities have detained 2,745 judges and prosecutors whose loyalty to the regime has been questioned.
Also, some 2,839 soldiers – including the head of the Third Army Corps in Istanbul, General Erdal Ozturk – have been arrested.
PM Binali Yildrim described the plot, which claimed the lives of 161 civilians with 1,440 wounded, as a 'black stain on Turkish democracy'.
Speaking from his home, Gulen claimed democracy in Turkey could not be achieved through military action.
He condemned the plot, although authorities in Ankara are not convinced.
He said: 'There is a slight chance, there is a possibility that it could be a staged coup. It could be meant for court accusations and associations.'
He added: 'It appears that they have no tolerance for any movement, any group, any organisation that is not under their total control.'
President Erdogan told a crowd chanting for the death penalty on Saturday that such demands may be discussed in parliament after a coup attempt by a faction in the military killed at least 161 people.
Looking relaxed and smiling, giving an occasional thumbs up to his supporters in Istanbul, Erdogan said the coup attempt had been carried out by a minority in the army.
He said: 'The army is ours, not that of the parallel structure. I am chief commander.'
Earlier Erdogan urged the US to extradite Gulen claiming Turkey never turned down an extradition request from Washington for 'terrorists'.
He said: 'I say if we are strategic partners then you should bring about our request.'
Secretary of State John Kerry said: 'We fully anticipate that there will be questions raised about Mr. Gulen. And obviously we would invite the government of Turkey, as we always do, to present us with any legitimate evidence that withstands scrutiny. And the United States will accept that and look at it and make judgments about it appropriately.'
A Turkish government official said the government 'has been preparing a formal application with detailed information about Gulen's involvement in illegal activities. After last night, we have one more thing to add to an already extensive list'.
Gulen is understood to maintain significant support among some members of the military and mid-level bureaucrats. His movement called Hizmet includes think tanks, schools and various media enterprises. Gulen and Erdogan only became estranged in recent years.
In a statement, Gulen said he condemned, 'in the strongest terms, the attempted military coup in Turkey.'
He said: 'Government should be won through a process of free and fair elections, not force," he said. "I pray to God for Turkey, for Turkish citizens, and for all those currently in Turkey that this situation is resolved peacefully and quickly.'
Gulen sharply rejected any responsibility: 'As someone who suffered under multiple military coups during the past five decades, it is especially insulting to be accused of having any link to such an attempt. I categorically deny such accusations.'
In an incredibly rare interview, Gulen said he would never return to Turkey because he would fear being 'persecuted and harassed'.
Speaking from his home in Pennsylvania, Gulen said: 'This is a tranquil and clean place and I enjoy and I live my freedom here. Longing for my homeland burns in my heart, but freedom is also equally important. If I were to send him a message, he would probably consider it as a slur and reject it,'
He added: 'But I have always prayed for myself and for him. I have prayed to God to lead us to the straight path, to the virtuous path.'
Read more:
http://www.dailymail.co.uk/news/article-3693729/Did-Erdogan-STAGE-coup-based-Turkish-cleric-facing-extradition-botched-rebellion-claims-president-orchestrated-plot-justify-clampdown-civil-rights.html#ixzz4EfyYBnb8
Follow us:
@MailOnline on Twitter
|
DailyMail on Faceboo
Amid hints that Turkish coup was STAGED, Erdogan calls it "GIFT FROM ALLAH"
Sunday, July 17, 2016 7:46
Why is the coup a gift from Allah? It has allowed him to begin his bloody purge — to consolidate his power and speed up the destruction of Turkish secularism and the re-Islamization of Turkey.
"After his Istanbul speech, many commentators suggest that Turkish coup attempt was 'staged,' as the President called it a 'gift from Allah,'" by Irene Kostaki,
New Europe
, July 16, 2016 (thanks to
The Religion of Peace
):
Turkish President Recep Tayyip Erdoğan lands at Ataturk airport of Istanbul aster coup attempt: "Those who staged a coup attempt will pay the highest price, will answer for this treason."
Erdoğan adds that this insurgency "is a blessing from Allah, because it will allow us to purge the military" from mutineers.
"I was in Marmaris and they bombed there. They thought I was still there," says Erdoğan, that had vanished from the media the last days as he reportedly was on vacation. The Turkish President suggested while addressing a large crowd at the airport, that after leaving for Instanbul, his hotel was bombed.
"They took away my secretary general. I don't know the fate of the army chief." Erdoğan's Prime Minister Binali Yildirim, confirmed that at least 120 army officials have been arrested. Moreover, Erdogan calls on insurgent officers to lay down their arms. "We are still on duty," he adds.
After his Instanbul speech, many commentators suggest that Turkish coup attempt was "staged," as the President called it a "gift from Allah."…

This disturbing picture shows dozens of Turkish soldiers bound together after being stripped of their uniforms following their arrest.
Does It Never Stop? Emails, Documents Tie Clinton Camp to The Turkish Imam Suspected In Turkish Coup
Posted By: Watchman
Date: Sunday, 17-Jul-2016 09:54:43
New emails and documents uncover ties between the Clintons and an Islamic imam from Turkey who has been in self-exile in Pennsylvania since 1999.
According to The Daily Caller, several pieces of evidence tie the Clintons to Fethullah Gulen, against whom Turkish President Recep Tayyip Erdoğan has launched a crackdown.
In the past, Gulen and his followers, called Gulenists, have had great influence over Turkey's media, court system, and the police.
But their power has been under siege by Erdogan, who has seen them as a threat to his quasi-fascist regime.
The Gulen movement is considered moderate. While embracing some aspects of traditional Islam the group rejects extremists, terrorism, and jihadist activities.
The movement has resisted Erdogan's efforts to undermine Turkey's democracy. Gulen also has been decidedly pro-Western and has advocated for stronger ties between Turkey and the U.S.
Erdogan has accused Gulenists of trying to weaken the Turkish government and has even gone as far as to ask President Barack Obama to send Gulen back to Turkey.
Emails and documents obtained by Judicial Watch show that Gulen's group has been in contact with the Clinton camp.
A 2009 email, for example, shows a Gulen follower asking Hillary Clinton's aide Huma Abedin for help in putting one of his allies in touch with Obama for a meeting in Turkey.
In another connection, a group with ties to Gulen hired the Podesta Group — John Podesta is a longtime Clinton aide and confidant — for lobbying activities on Capitol Hill. The executive director of that Turkish group, the Alliance for Shared Values, has donated to the Clintons.
http://www.newsmax.com/Newsfront/Clinton-Ties-Turkish-Imam/2016/07/14/id/738643/